DeeMar Boxers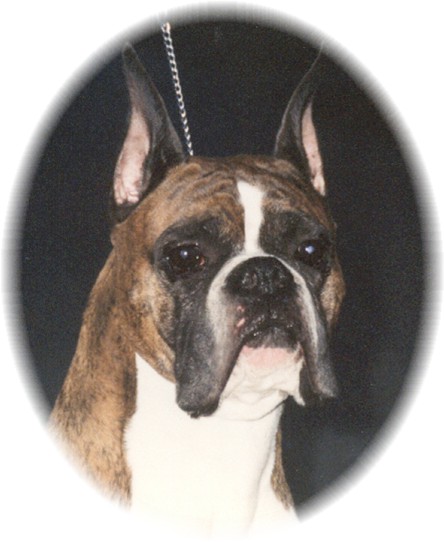 Can. Ch High Crest's Bonanza
"Benny"
9-9-1994 - 8-6-2005
SAS Clear, Thyroid Normal, OFA Good
Breeder Adrienne Baker
At 10 yrs & 11 months old our sweet boy could no longer fight the lung cancer that in the end spread to his shoulder.
He is no longer in pain and is at peace and running the fields with his sweetheart Neva.
We will miss you dearly, but we see you shine in the beautiful and healthy kids you have blessed us with.
Till we meet again Sweet Prince!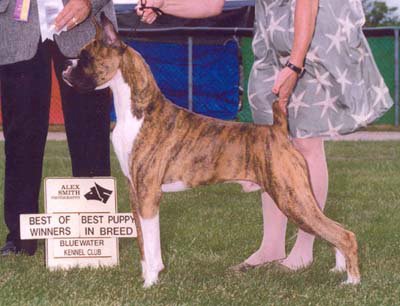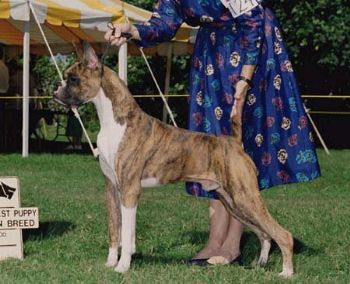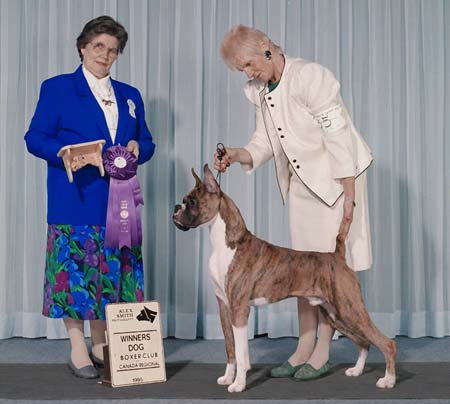 Ben at 10 yrs 3 months old, He just loved stuffy toys.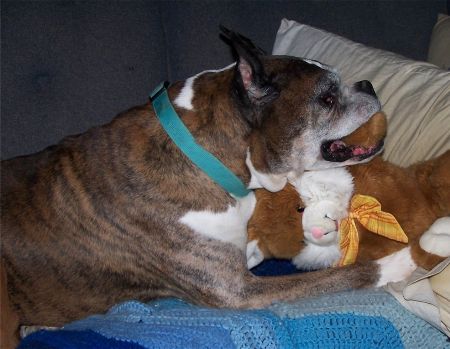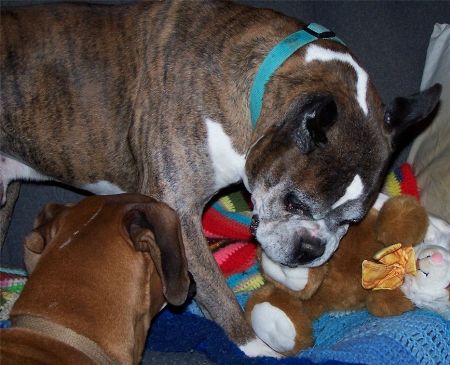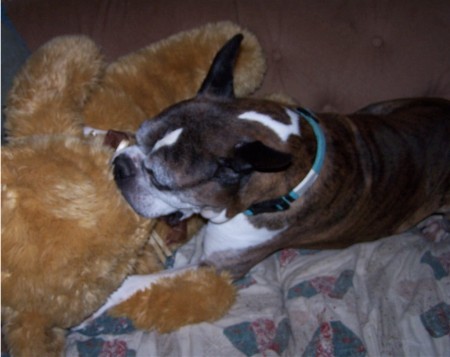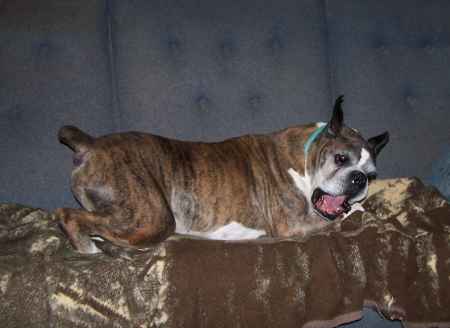 CH HIGH CREST'S YACHTSMAN
CH BRIDGEWOOD'S BK KAHUNA SOM LOM
CH TELSTAR'S GOOD TIME CHARLIE SOM
CH BERENA'S GEMINI SPLASHDOWN SOM LOM
TELSTAR'S HIGH FIDELITY
GINGER'S GOLD'N GLOW
AM CAN CH MEPHISTO'S SPARTACUS SOM
COCO'S FANSEE DANSEN
HIGH CREST'S YOU GOT IT
CH GLENNROE RUM RUNNER SOM
CH TELSTAR'S FRONT RUNNER SOM
GLENNROE ELATED ECHO O'DOLOR
HIGH CREST'S APPLAUSE
CH TELSTAR'S TRISTAN
HIGH CREST'S SUSAN BELLE
CH HIGH CREST'S HOT STUFF
CH TELSTAR'S GOOD TIME CHARLIE SOM
CH BERENA'S GEMINI SPLASHDOWN SOM LOM
CH WAGNER WILVERDAY FAMOUS AMOS SOMLOM
CH SUMMERBIRD LEADING LADY DOM
TELSTAR'S HIGH FIDELITY
CH TELSTAR'S HIGHFLYER SOM
CH TELSTAR'S BAMBI

CH HIGH CREST'S CHANTILLY LACE
CH GLENNROE RUM RUNNER SOM
CH TELSTAR'S FRONT RUNNER SOM
GLENNROE ELATED ECHO O'DOLOR
HIGH CREST'S ASPIRATION
CH TELSTAR'S TRISTIAN
HIGH CREST'S SUSAN BELLE