DeeMar Boxers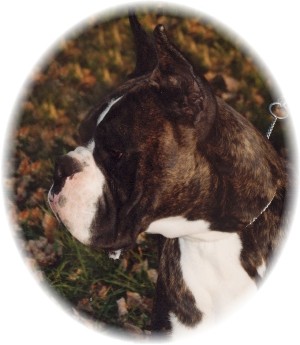 Can. Ch Kenon's Nevada Gold
"Trigger"
7-23-1998 - 8-29-2007
Heart Tested Normal
24 hr. Holter Normal 5 PVC's at 7 yrs old,
SAS Clear via Auscultation at 2 1/2 yrs old, Thyroid Normal
This guy has the most wonderful temperament, So sweet and gentle!
His only concern is where he left his ball should he forget to take it with him for a nap.
No male aggression.
Breeder Ken Lau
At 9 yrs our sweet boy could no longer fight the Bladder Cancer.
He is no longer in pain and is at peace. He is doing his favorite thing,
chasing his ball thru the fields with his friend Ben, his sister Neva & niece Drizzle.
You were always such a gentleman and a happy boy who loved everyone. We will miss you dearly,
but we see you shine in the beautiful and healthy kids you have blessed us with. Gods peace my sweet boy.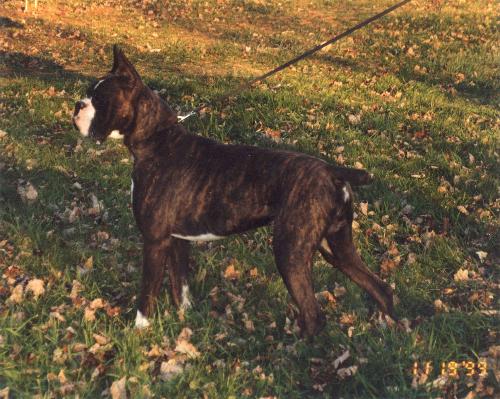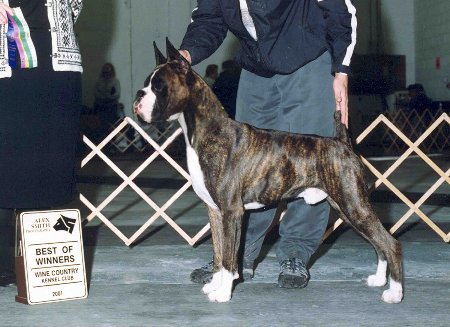 CAN CH Kenon's Nevada Gold

CH Kenon's Black Gold
CH Araby's Black Watch SOM
AM/CAN CH Marquam Hill's Traper Of Turo SOM LOM
CH Lilliput's Black Magic
Moonglow's Abbas' Image
AM/CAN CH Cardone's Vanzetti SOM
Hillcircle's Black Rhapsody
Kenon's Nevada Sunshine
CH Karmel's Flash Of Neuleben
CH Berena's Gemini Splashdown SOM LOM
Jacquet's Kiri Te Kanawa DOM
CH Karmel's Cover Girl
CH Jopa's Dr. Action
CH Karmel's Isabella De Araggon